A Residential Home as Postcard – Sozialverein B37
A Residential Home as Postcard – Sozialverein B37
PROJECT BY Daniel Derflinger, Sarah Mühlbacher, Julien Reinhart & Anne Rotter
In the context of the second expedition, we visited the psychosocial residential home of the association B37 on Bethlehemstraße in Linz. Mentally and physically impaired people who otherwise would be homeless live there together in assisted residential communities.
A residential home is inevitably a place with restricted access. This is why we were especially interested in the effect that boundaries have here toward the inside and outside. Why is it (un)necessary to draw boundaries in this place? What in specific do access restrictions mean for a residential home? What changes does the corona situation cause in the lives of the residents? Is there a shift of boundaries? Will we be granted access at all so we can leave a "contagious" object?
Structures and Boundary Drawing Mechanisms – Observations
We did on-site research on the structural realities, talking to the staff in the morning and interviewing the director of the residential home in the afternoon. This is what we found out: The residents are free to do what they want. They are not restricted in their movements and can enter or leave the house at any time. Structure is given by the house rules, such as nightly rounds, rest times, or visiting hours (meetings between visitors and residents are only possible by appointment in the communal areas). In a residential home, the drawn boundaries mostly serve as (self-)protection: The access restrictions for external persons, for instance, are in place so the residents can find peace and security.
The corona pandemic caused the boundaries of the residential home to shift: Due to hygiene rules, visits are no longer possible. The greatest change, however, concerned the communal areas, which had to be closed. Despite the fact that joint activities are especially important for people with mental and physical impairments living in a residential home.
Openness – Conclusion
We were surprised by the (not just spatial) openness and how our interest for the facility was met with joy by the caregivers and residents. We concluded that structural thresholds or the
"house rules" do not constitute the greatest boundaries. It is the boundary drawing mechanisms of our society that cause a spatial isolation of people with mental and physical illnesses.
Postcard – Intervention
These findings served as the basis for our concept of a "contagious" object. It was to combine the many-faceted structures of the residential home, guarantee the necessary (safety) distance, and offer the residents an interaction opportunity that corresponds with their leisure activities.
We eventually decided on a postcard that depicted the residential home as a paper cut and could be colored and decorated further by the residents. The lino printing process was used to reproduce the postcard: This gave everyone the chance to mark their own room's window on the card, and those who wished to could also send their individualized postcard – let it move on.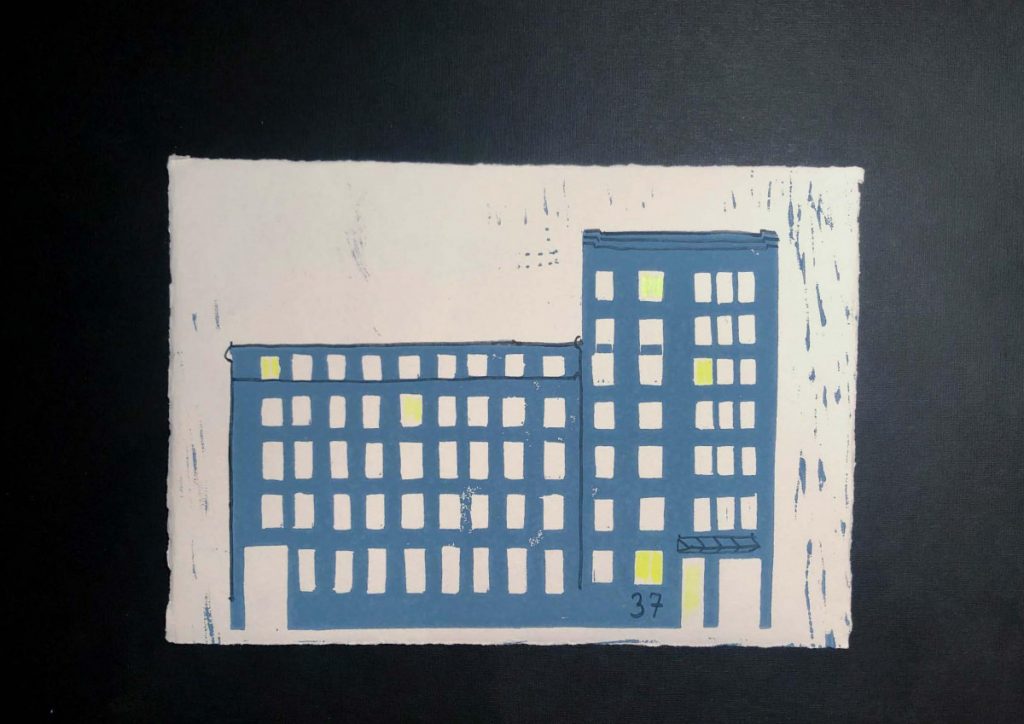 Schedule
08:40 First arrival on site and first observations
08:50 Conversation with Anna (staff member)
09:40 Call to the home administration: call appointment made for around 11:40
09:50 Thoughts on questions for the call
10:08 Decision on the questions and thoughts on the wandering object
11:30 Meeting with Jasmin Mersmann
11:48 Call with the director of the home, Thomas Wögrath
12:14 Lunch: vegetable dhal with rice
13:08 Decision: the wandering object is selected (postcard)
13:17 Postcard and presentation are prepared
15:00 On-site meeting with Thomas Wögrath
16:12 The findings are summarized and structured
17:23 Lino print production of the postcards
18:23 Preparation of the next-day presentation
19:47 Delivery of the postcards at the residential home